Outcomes of the first Provider Pulse Survey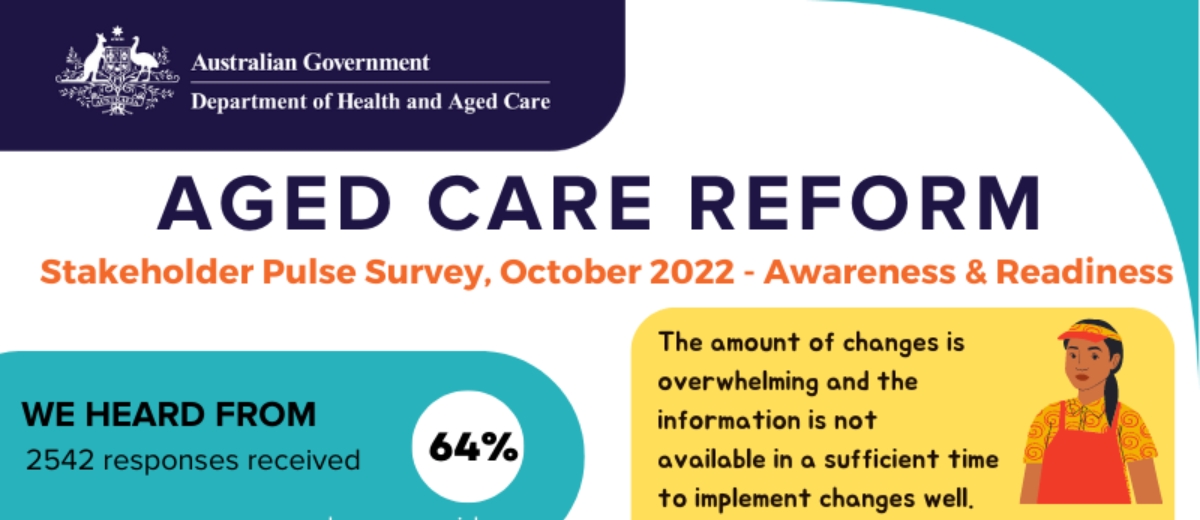 From 23 September until 14 October the department ran a survey for aged care providers and stakeholders, to monitor readiness for change and understand the level of awareness of the aged care reforms.
We received 2,542 responses to the survey, with 64% of these being people from the aged care sector.
What we heard
The survey results showed there were moderate levels of awareness and preparedness for the reforms taking effect prior to July 2023. Only 38% of residential care providers and 26% of home care providers were well aware of the reforms relevant to them.
In terms of preparedness, 71% of residential aged care providers and 72% of home care providers felt somewhat prepared for reforms they identified as having a high impact on them.
Across all stakeholders, 40% said they were not getting the level of detail required to plan and prepare for the reform changes.
Overall, responses from aged care providers identified the need for:
More targeted and detailed information, delivered with sufficient time and via more appropriate channels, to enable them to properly plan and implement the changes
Longer implementation timeframes, and
A whole-of-system picture of the reforms.
What we're doing
In response to the results, we will:
improve planning, by integrating information across projects
provide a clearer narrative and more context to the aged care sector, so they can see how the various parts of the reforms work together
collaborate and partner with the sector
use our established networks to greater effect, particularly our state and territory networks, and
publish project information early and often, even if we expect dates to change.
Results from this first survey form a baseline against which we will evaluate the effectiveness of our communications and change management each quarter.
The survey results also help us to identify focus areas and projects requiring further communication support.
The survey will be repeated each quarter with the next survey planned for release in early February 2023.
To receive updates and information on future consultation activities please sign up to our engagement database and get involved in current activities.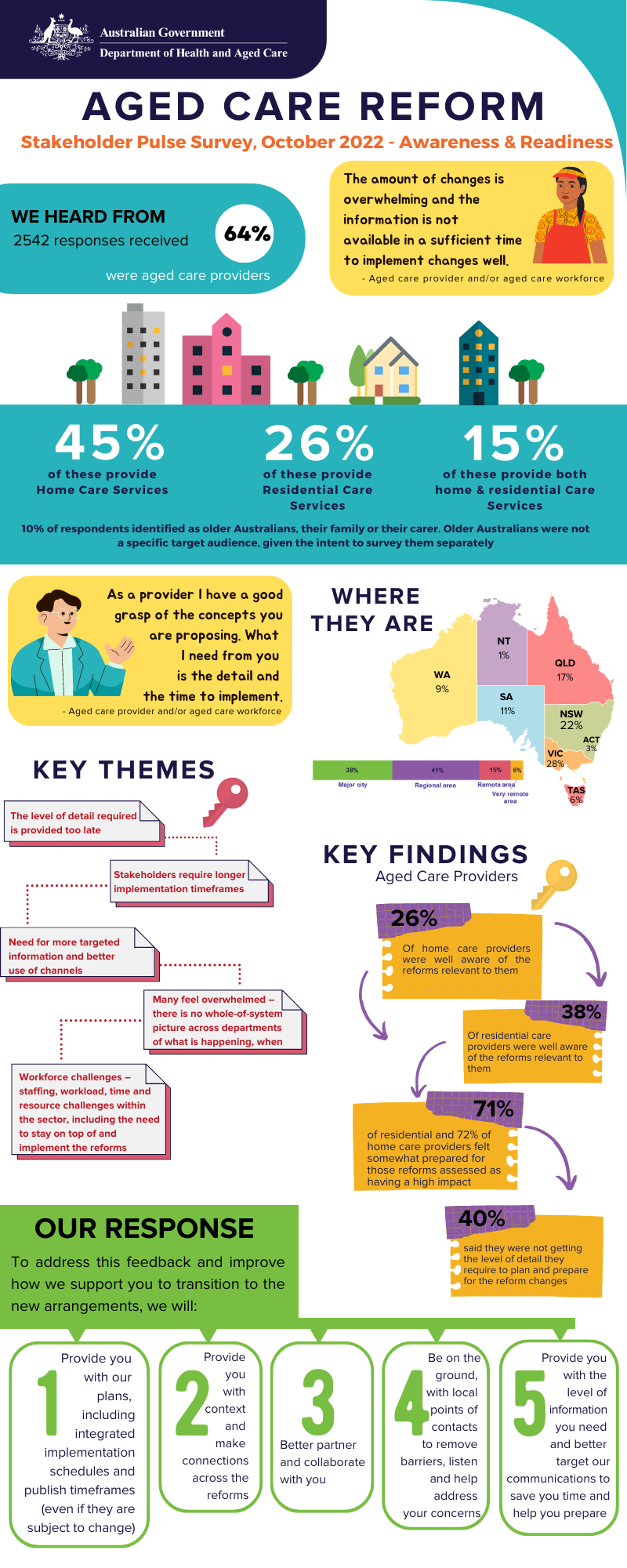 Let's change aged care, together
Every Australian should feel confident about accessing high quality and safe aged care, when and where they need it.
The changes mean older Australians will have greater choice and control, services that respect and meet their needs, and support to stay independent as they age.
To find out more and help design the changes, visit the Get Involved page or call 1800 318 209.