Community Visitors Scheme celebrates 30 years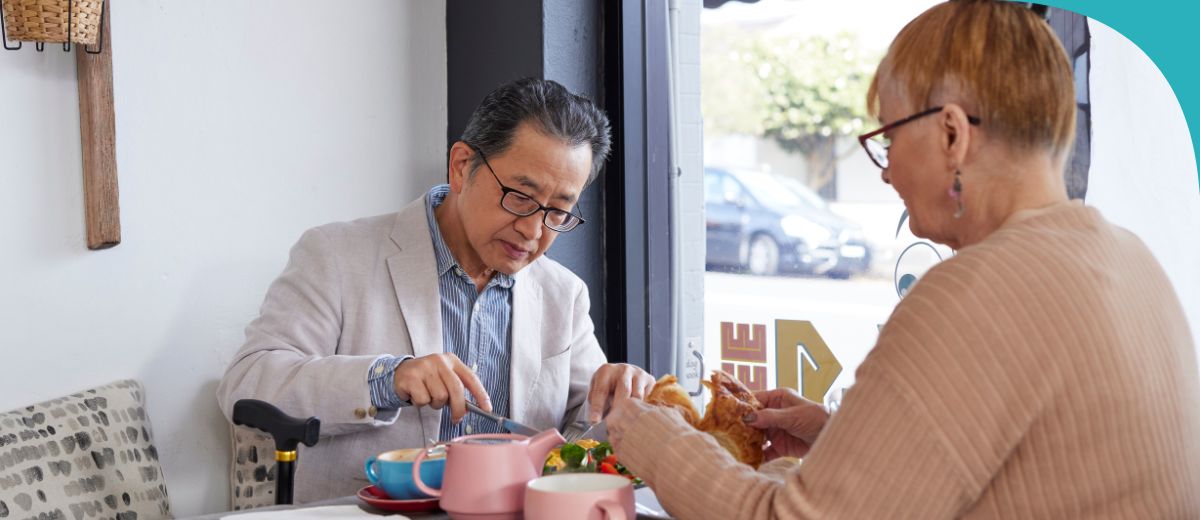 This year we are celebrating 30 years of the Community Visitors Scheme (CVS). Volunteers come from all different backgrounds and from all over Australia. The scheme connects volunteers with someone in their neighbourhood who is receiving aged care services. The relationships that develop are life changing for older people who can be feeling isolated or lonely.
We'd like to say thank you to all the volunteers who give their time and provide such valuable support and companionship to older Australians. The CVS is filled with inspiring stories and tales of friendships – check out the story of Rahman and Hans who have known each other for 17 years, or Carla and Germana who are new friends.
Rahman and Hans
Rahman
Come on. Come on, boy!
I started volunteering with the community visitor scheme in 1991-92. So this year is nearly 30 years.
When I first arrived in Australia, always looking for the community I live. Actually who they are and how the community is running.
So the local newspaper, there is a little advertisement there, 'volunteer needed – friends for older people.'
And from there everything is history.
Hans!
Hans
Hey mate!
Rahman
Hi! How are you?
Hans
Good. How are you?
Rahman
Good. Oh, my friend.
Hans
We've been friends for 17 years. I think he's one of my longest friendships.
Rahman
It's a pretty long time, Hans.
Hans
Yeah, that's right.
Rahman
Hans is also my longer service friend.
Guess what? What is this?
Hans
Oh, apple pie!
Rahman
There you go!
Hans
I'm very grateful for Rahmen.
We all come here to learn and our greatest teachers are our relationships, our partners. That's my friend here, my partner.
Rahman
He's my mentor. He's my teacher.
He taught me the philosophy. He make me laugh. And he makes me the wiser.
For the last 30 years, with community visitors scheme, I met with over eight residents or eight of my friends. Combined of their life it is over 600 years.
Each individual is different. They're unique. And I just grab at everything.
Every time I come here, I have a pleasure. I took something from here as his wisdom.
Hans
We look forward to it because it's like it expands our meaning for living.
We get great ideas being together. It's like it gives us all a purpose for being here. It gives us a purpose and a reason.
Rahman
Volunteering give me the identity. Volunteering give me the way I belong, my community, my society, my country. It's changed me. I think I am more benefited and richer where I am now.
Volunteering is a privilege. This CVS is very unique recognition of the senior citizen.
This is our time to recognise them. It's a simple way to say thank you. We are here for you because of what you've done for our nation and our community.
Hans
That was very special.
Rahman
Look after yourself.
Hans
Thank you.
Rahman
Have a good day.
Hans
Thank you, mate.
Carla and Germana
Carlo
I'm one of the community visitors here.
I was conveniently introduced to the program through a mutual friend of mine.
At the time I was spending so much time on myself, trying to make myself a better person, developing my own interests.
And after getting to know some of the residents, I realised it made me feel good.
It was a unique opportunity in which I was able to impact other people's lives.
Germana
Hello.
Hello!
Carlo
Oh, hello Germana.
Germana
There's my grandson!
Carlo
How are you?
Lovely to see you.
Germana
Long time no see.
Carlo
It's been three days.
The moment I was introduced to Germana, I walked into her bedroom and it was like a house on fire from the first moment.
She turned her head around, looked at me and she greeted me with a big smile, detected quite quickly that I was also Italian background and we just had so much to talk about.
She was so animated and since then I've been visiting and we've gotten along very well.
Germana
They're so good.
He's a great guy. He's a great guy. It's like he's my grandson.
He's inspirational.
He can make me think and, you know, I can talk to him about anything.
He's very easy to communicate.
Carlo
Having the opportunity to connect with Germana has really taught me that everyone has different perspectives.
I really benefit from a lot of her wisdom and stories.
She comes from a different era and it is a learning experience.
We often learn best off other people and learning from people different to you encourages you to be more open minded.
Germana
He's a good person. Deeply good. He's got a great heart.
Carlo
Oh, thank you Germana.
Germana
I feel like I know you forever. Actually I would go as far as say I love him.
Courage (staff member)
There's somebody in aged care who like to talk to you.
They always want people to come and visit.
It could be 1 hour, it could be 2 hours, one day a week.
Come in, have a chat with somebody.
To put a smile in somebody's face, it's easy and it'll change someone's life.
Germana
We in the aged care facility, we do need communication with outside people. I appreciate Carlo for what he is because when you're old, you feel you're put on the side and that's it.
And with him I don't feel like that. So that is something that I appreciate very much.
Carlo
It's a wonderful opportunity to both grow as well as to achieve something truly fulfilling.
Nothing brings more pleasure than being able to offer a service back to the community.
I think everyone should be participating.
Let's change aged care, together
Every Australian should feel confident about accessing high quality and safe aged care, when and where they need it.
The changes mean older Australians will have greater choice and control, services that respect and meet their needs, and support to stay independent as they age.
To find out more and help design the changes, visit the Get Involved page or call 1800 318 209.